Open Gyms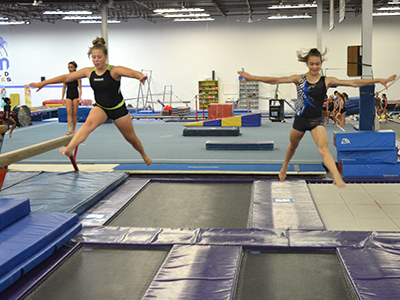 Open gym is supervised by our staff and provides a safe environment for working on the skills of your choice. Although open gym is supervised, it is a non-instructional time for gymnasts to work on skills or just play! Members and non-members of all abilities are welcome. Open Gym is offered for children ages 6 and older. *Please note, for liability and
safety reasons parents are not allowed in the practice areas with the gymnasts.
$10 for members and $15 for non-members. All Open Gyms are cash payment only.

Please check our CALENDAR for any possible Open Gym schedulings or cancellations.
Please review our OPEN GYM SAFETY RULES with your athlete prior to attending.
If you are not a member or have not updated your waiver with us in the past year, we will need a signed waiver or online Open Gym registration for participation.
Click HERE for a printable waiver.
Non-members may use the following online registration link for Open Gym waiver signing. Cash payment will be due upon arrival:

Open Gym Registration links
Open Gym for ages 6-18 - Sunday, Oct. 1st 4:00-5:30. $10/members, $15/non-members
Preschool (ages 1-6) Open Gym - Friday, Oct. 6th 4:00-4:50. $6/members, $10/non-members
Preschool (ages 1-6) Open Gym - Friday, Oct. 13th 4:00-4:50. $6/members, $10/non-members
Preschool (ages 1-6) Open Gym - Friday, Oct. 20th 4:00-4:50. $6/members, $10/non-members
Preschool (ages 1-6) Open Gym - Friday, Oct. 27th 4:00-4:50. $6/members, $10/non-members