Classes

League Team (girls 6 and older)
League Team (2 hours.)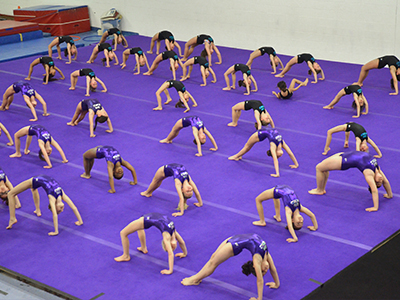 The League Team is designed to give any level athlete a chance to enjoy the competitive side of gymnastics.
- 3.5 hours of training per week. One 1.5 hour Rainbow Class and One 2 hour League class.
- Get the experience of real competition without the commitment of year round training!
- Meets are held in-house with local participating gyms.
- Perfect for levels 1 through 3 or athletes training for Xcel Gymnastics.
Interested? Inquire at the front desk for more information.
Still confused about League Team and how it differs from Competitive Team? Click here
*To participate in League Team you MUST be enrolled in a Rainbow Class.
Please refer to our Recreational "Frequently Asked Questions" page for information regarding absences, re-enrollment, what to wear and more!
$40 annual family Recreational Membership fee and tuiton due upon class registration.


Registration for Spring Session classes will be available 3/12.

Spring Session 4 runs April 6th through June 8th
*we will be closed May 25 for Memorial Day