Classes

Tumbling Classes (8 and older)
Tumbling Class/Private Lessons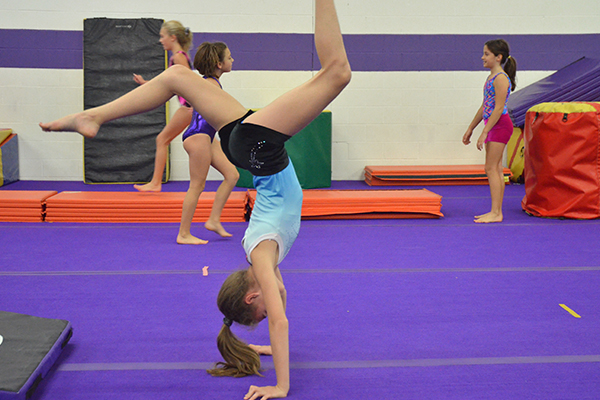 TUMBLING CLASSES (1 hour)

For athletes 8 and older, these classes are designed for athletes who want to concentrate their efforts on the tumbling aspects of gymnastics. They are great for those aspiring to be a cheerleader, those wanting to add acro skills to dance routines or for those who just like to flip. Tumbling classes use the trampolines, Tumbl Trak, spring floor, rod floor and the foam pit. Class meets 1 hour per week.
We offer no contract, month-to-month tuition. You may register at any time. Please see our "FEATURES and FAQ" of this billing program for more information.
$40 annual family Recreational Membership fee and tuition due upon class registration. Monthly tuition will be prorated (if applicable) prior to billing.

Register for Tumbling classes below. Enrollment begins upon registration

**PLEASE NOTE - ENROLLMENT AND TUITION IS EFFECTIVE AS OF YOUR REGISTRATION DATE. We cannot take pre-registration or hold spots for a later date.**
---
PRIVATE LESSONS
Gymnastics World of Twinsburg offers private lessons for those athletes looking for personal attention to work on specific skills. If you would like to schedule private lessons with an instructor you must first become a gym member. Price for annual family membership is $40/year. Online registration can be completed below.
Please call 330-486-1320 to set up specific time and day for private lesson.
Private lessons are based on gym and instructor availability.